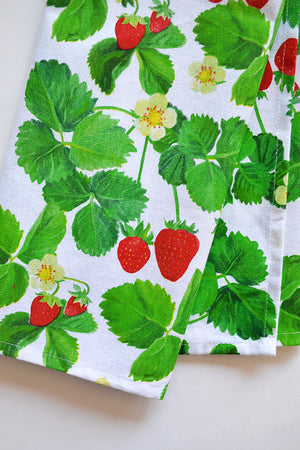 Strawberry Tea Towel
100% cotton tea towel with loop for easy hanging. Perfect for bringing a pop of color into your kitchen.
A majority of Bridgette's paintings feature flowers. Whether arranged in a vase or found growing in nature, flowers have the ability to stop viewers in their tracks and create a moment of meditation and joy. Flowers symbolize creation and are the perfect gift for expressing an array of sentiments. The lineage of creation seen in flowers is mirrored in Bridgette's art making. Through gifting luxurious and artful products, Paint&Petals aims to bring wellness and joy to all.
FEATURES
100% Cotton

Machine Washable

Vibrant Full Color Printing

30"L x 20"W


Our summer fresh collection showcases products from a variety of fruit paintings, a sweet treat for the Paint&Petals' essentials.