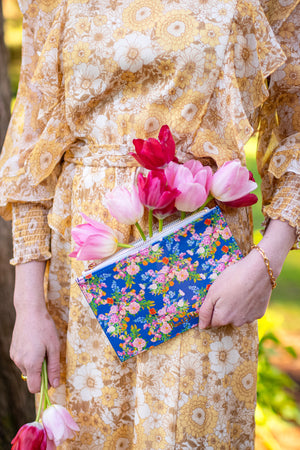 Galaxy Blue Floral Accessory Case
Patent leather clutch featuring the Paint&Petals gold logo with matching gold zipper. Perfect for organizing your cash and cards and sliding into your favorite tote bag. 
A majority of Bridgette's paintings feature flowers. Whether arranged in a vase or found growing in nature, flowers have the ability to stop viewers in their tracks and create a moment of meditation and joy. Flowers symbolize creation and are the perfect gift for expressing an array of sentiments. The lineage of creation seen in flowers is mirrored in Bridgette's art making. Through gifting luxurious and artful products, Paint&Petals aims to bring wellness and joy to all.
FEATURES

Vibrant Floral Print

Gold Zipper and Logo

8.5"L x 5.5"W
DESIGN
The joyous feeling of seeing a butterfly in nature inspired this collection. Our hidden butterfly collection effortlessly weaves together a variety of hand painted prints with hues of blue tying it all together.