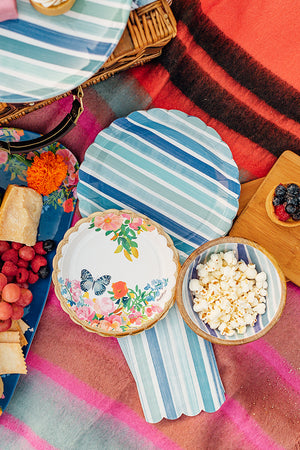 Brushstroke Stripe Paper Plates
Set of 8 paper dessert plates perfect for birthday cake or a sweet treat.
A majority of Bridgette's paintings feature flowers. Whether arranged in a vase or found growing in nature, flowers have the ability to stop viewers in their tracks and create a moment of meditation and joy. Flowers symbolize creation and are the perfect gift for expressing an array of sentiments. The lineage of creation seen in flowers is mirrored in Bridgette's art making. Through gifting luxurious and artful products, Paint&Petals aims to bring wellness and joy to all.
FEATURES
9 In. Diameter

Vibrant Full Color Printing

Scalloped Edge

Full Color Printing
A perfectly classic stripe design, hand painted and printed here to is a wonderful design to anchor any party theme.